An Unbreakable Bond
All Campus Commencement student speaker Michaela Juels reminds graduates that success is collective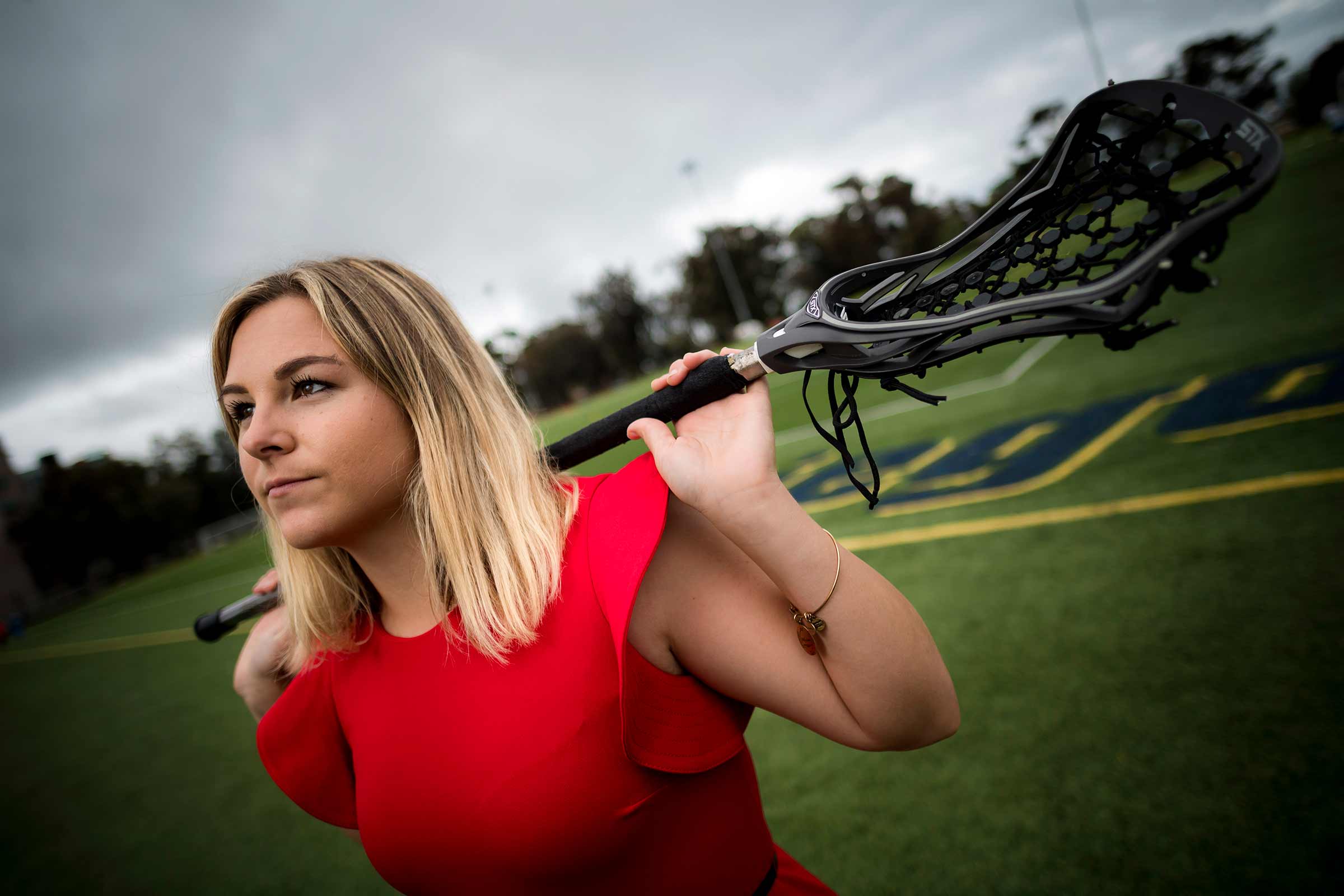 Photos by Erik Jepsen/UC San Diego Publications
Michaela Juels kept her emotions bottled inside. The UC San Diego senior recalls the pain of witnessing her mother suffering from mental illness, her lack of treatment options and the stigma her family experienced. As the years passed, she began opening up and discovered there were many others who could relate. Last summer, as she was wrapping up research on anxiety and depression, she received a devastating phone call—her mother had unexpectedly passed away.
The news shattered her plans. Her research came to a halt. She canceled her Medical College Admission Test. Juels' world was crushed, but she was not alone. As UC San Diego's All Campus Commencement student speaker, she will share her story of finding loving support in the midst of tragedy, and the importance of recognizing that no accomplishment is an individual feat.
"All of our successes are not born in isolation—they are bred in collectivism and support," said Juels. "At UC San Diego, there are so many around us who come from difficult backgrounds and experience hardships. I want my fellow classmates to know that they are not alone and that with adversity comes triumph and strength. I want to inspire hope for their future and faith in one another."
Juels will share the stage at Commencement with keynote speaker Madeleine K. Albright. As the nation's first female Secretary of State, Albright became the highest-ranking woman in the history of the U.S. government when she took on the role in 1997, paving the way for other women in leadership. She is a professor in the practice of diplomacy at Georgetown University's School of Foreign Service and was awarded the Presidential Medal of Freedom, the highest civilian honor, by President Barack Obama in 2012.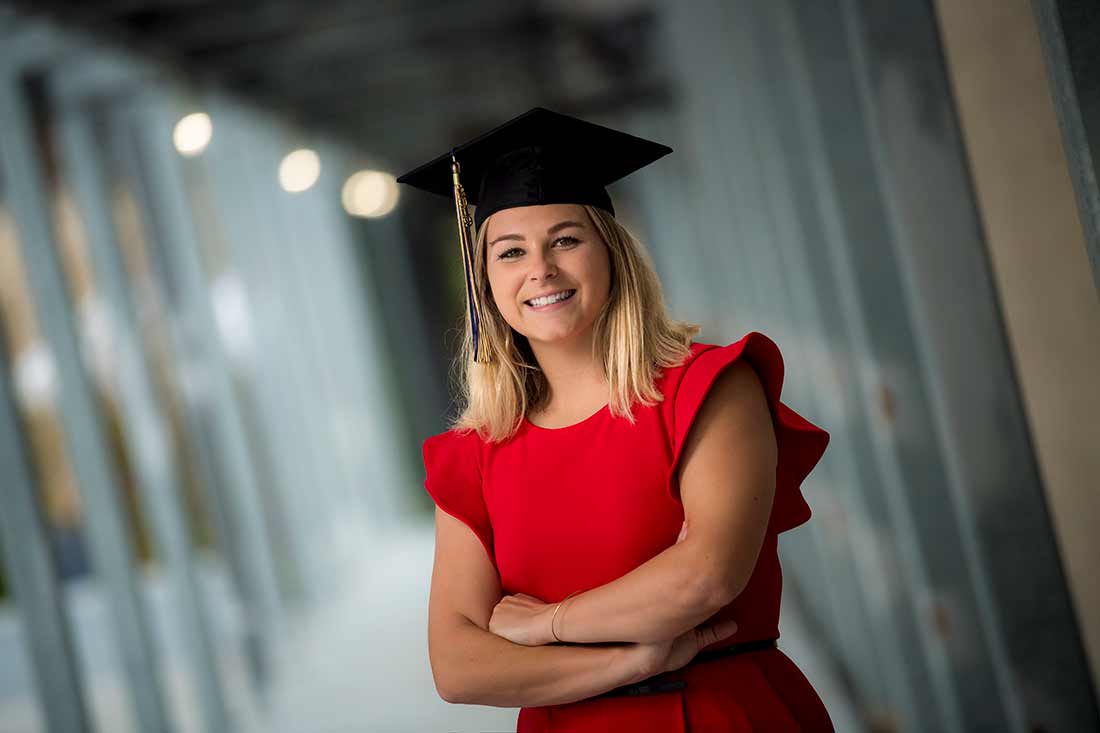 "Madeleine Albright is incredible," said Juels. "She is very resilient, surviving war and life as a refugee, coming out strong and serving others in the process. She is an icon for women and a huge role model for me."
Albright's empowering career is especially meaningful to Juels. Growing up as a tomboy who loved sports, she was constantly confronted by phrases like "you play like a girl" or told to act more "ladylike." Instead of succumbing to the hurtful assails, Juels was driven to challenge the opinion that she was somehow less capable—in athletics or otherwise. In high school, she stood up to a bully who objectified women, enduring a new nickname of "feminist hulk." She lacked a presence in her life that could affirm the power of her gender as a positive force.
As a junior at UC San Diego, she decided to become the role model she needed as a young girl. Juels took on leadership of Girls Academy, a weekend retreat hosted by her sorority, Kappa Kappa Gamma. For the program, 50 students from The Preuss School UC San Diego are invited to take part in interactive workshops about body positivity, pathways in STEM, bullying, and more over the course of a weekend in the summer. Together, they work on a service project—most recently the students created reusable water bottles inscribed with inspirational quotes to distribute to classmates at school.
"Growing up with gender discrimination, being able to educate and empower these young girls is one of my proudest accomplishments," said Juels. "The girls at this event have overcome more adversity than I can even begin to imagine. They come into Girls Academy shy and unsure, but when they leave they are beaming and confident and ready to take on the world."
Throughout her college career, Juels' passion for sports only grew stronger. As a freshman, she joined the UC San Diego Women's Lacrosse team, immediately finding family amongst the tight knit group. Over four years, she earned the First-Team All-League Midfield award from the Division 2 Western Collegiate Lacrosse Association and was named Most Valuable Player three years in a row.
As she reflects back on her time at UC San Diego, Juels has no regrets. "I never use the phrase, 'this is a waste of time,'" she explained. Rather than having a rigid goal and structured steps, she believes in being open to opportunities as they arise because every experience makes one grow. An aspiring medical doctor, Juels knows she wants to make a difference. She has not yet settled on a specific path, but is considering pediatrics or psychiatry. In the end, she is confident that she will never have to trek the journey alone.
"Even though I cannot possibly know every student in the Class of 2019, I can tell you that I feel a deep, personal bond and sense of gratitude to my fellow peers," said Juels. "We are all a part of the same mission, and share the same dreams and values. We all strive to see the world in a better way and break boundaries."
Stay in the Know
Keep up with all the latest from UC San Diego. Subscribe to the newsletter today.