Algeon Materials Embraces the Power of Kelp
Startup founded by Rady School of Management MBA students creates sustainable, biodegradable plastic alternatives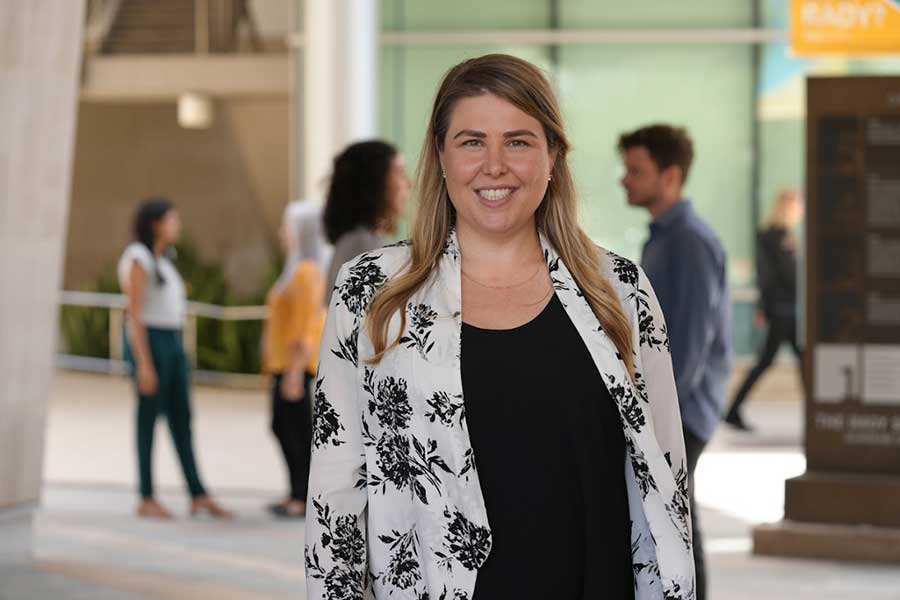 It's already been a big year for Algeon Materials, a biotechnology company creating sustainable, biodegradable alternatives to plastic from kelp. It recently completed its journey with the inaugural cohort of the startBlue Accelerator Program, an eight-month incubator for blue-tech startups. Adding to its long list of awards, Algeon also recently won first prize in the annual Triton Innovation Challenge competition for environmentally focused startups, which recognized the company's strength for its mission to reduce plastic pollution and fight climate change.
Algeon Materials was co-founded by Kim Pendergrass and Rose Fein, both of whom recently graduated from the Rady School of Management with MBAs. Pendergrass served as a commencement speaker for Rady's graduation ceremony on June 12. We caught up with Pendergrass to ask her about how her background inspires her work, the promise of kelp-based plastic alternatives and the company's plans for the future.
Q. Can you tell us about how your background and previous experience that led you to where you are now?
A. I grew up in the Pacific Northwest. My dad taught me to have a love for the outdoors. Each year when I was a child, we spent family vacations camping for many weeks in the woods. He taught my younger brother and me to have a passion for hiking, fishing and archery. Being outside feels like it's fused in my DNA and I'm at my happiest when I'm in nature.
I also love art and wanted to be a fine artist when I was in high school. In undergrad, I pivoted to business entrepreneurship because I felt like it scratched that itch I have for creativity and would lead to a more stable paycheck. I loved my time at Oregon State University. I was spending my time studying abroad (Spain, Scandinavia and Thailand) and leading social business development projects in Central America. I always planned to return to school and get my MBA after I spent time gaining more business experience. It turns out that start-ups can be a great "real world" education. I worked for Nvoicepay and I ended up staying for eight years through our acquisition by Fleetcor Technologies before enrolling in grad school when I was 31 years old.
Q. Why did you choose the Rady School of Management?
A. I've been interested in entrepreneurship for many years and working in a startup right out of undergrad confirmed it was the right path for me. Every day, I felt energized because there was a new mountain to climb. I spent the first eight years of my career experiencing what it took to take a business from pre-revenue to acquisition by a large public company. When I was looking at business schools, it was important to me to choose an MBA program that would support my goal of launching a business while in school. I chose the Rady School of Management at UC San Diego because of the strong entrepreneurial community and ecosystem that supports students and alumni starting businesses. I wanted a business school that had incubators, accelerators, maker spaces and strong ties to the investing community. Finally, Dean Lisa Ordóñez's commitment to strengthening diversity, equity and inclusion reassured me that I would be in a place that supported and celebrated women's successes in business.
Q. What are a few key moments that led to the idea for Algeon Materials?
A. During the pandemic, single-use items became a lifeline for many of us. It felt like all the progress we'd made as a society in training ourselves to use reusable items vanished overnight. Then there was a shift to online commerce and the deliveries started. It was alarming to see all the packaging waste piling up in our garage before "trash day." I grew up in Oregon and was a diligent recycler, always making sure to sort the different materials into our bins. I felt let down to learn that 90% of traditional plastics are not recycled, even when consumers try to do the right thing.
Then, I moved to San Diego and met my co-founder, Rose Fein. Rose is also passionate about the environment and is an expert in new product development from her time in aerospace and defense. Living close to San Diego's beautiful beaches makes seaweed top-of-mind, so we decided to see if we could create bioplastics with this amazing resource. We were successful, and Algeon Materials was born.
Q. How did you and Rose Fein connect as classmates?
A. Rose and I are both in the same cohort, FT MBA 22, but we never got to meet each other in the beginning because we started during the pandemic, when Zoom class was in full force. A few months into the program, we got paired up in a slack channel for networking meetups on Zoom. We stayed in touch and met weekly about problems and opportunities we saw in the market. Eventually, we took the plunge and applied for the NSF ICorps Bootcamp with the Jacob's School of Engineering and the StartR programs with the Rady School of Management. Early momentum and success in those programs gave us the confidence and traction to carry the idea through the summer and keep building on it.
Q. What has most surprised you about your experience building a startup?
A. Building a start-up really takes a village. That myth about the lone genius starting a company isn't real. Even though we have access to resources and advisors, I was still surprised by how many people want to help us. Algeon Materials's mission speaks to a lot of people and I am amazed by the outreach from others looking to help and support us any way that they can.
Q. Can you expand on the development process?
A. The first step from idea to execution is to really understand the problem from the customer's perspective. Common mistakes are to take pieces of cool technology and try to find a buyer. Customers do not buy cool technology; they buy solutions to their problems. NSF ICorp is a great program and requires teams to conduct 100+ customer interviews to really understand the problem. This is easily the most valuable activity when starting a business. Entrepreneurs can keep track of their assumptions on a Lean Canvas Model and continually validate their assumptions through primary research. Once your team understands the problem, you can move to the next step of understanding your market size.
Q. What surprised you the most about business school?
A. I was a little hesitant about starting a full-time business school program with eight years of professional business and leadership experience. Several people in my industry told me that I was too old to go to business school and should look at getting my MBA in an executive flex program. It was mildly insulting and I'm thankful that I didn't listen to this advice. Being a full-time MBA student in my 30s has afforded me the flexibility and time to start my own venture. My classes are fulfilling and I find myself taking electives in areas that I previously had little experience in like supply chain management, strategic sourcing, and business analytics. At Rady, I've found a community of students from a variety of backgrounds that include other senior leaders in their fields looking to grow their business acumen. Business school is not just for those mid-20-year-olds with two to five years of business experience. It's also for the rest of us; the ones with a plan for our future and how an MBA will help us get there.
Q. What do you wish you'd known before you started?
A. I think entrepreneurship is a journey. There are definitely skills I wish I had or research I wish I would have done before I started, but I don't think I would change anything. I find the unknown exciting, and it drives me to keep going.
Q. How has being a part of the Rady School and UC San Diego community most directly influenced your work?
A. Being part of the Rady School of Management and UC San Diego community has been crucial to launching Algeon Materials. I think starting a business during school is a great opportunity because you are surrounded by an ecosystem that wants you to succeed. As a member of the Rady and broader UC San Diego Community, we've had access to mentors, incubators and other resources early on in our journey. This access has allowed us to move faster and pivot to where we are currently.
Q. Which academic or extracurricular achievement are you most proud of during business school?
A. I'm proud of launching a mission-driven bluetech start-up during my MBA. Along with cohort member Rose Fein, I launched Algeon Materials, a biotech materials company focused on creating sustainable and environmentally friendly bioplastics from kelp. I came to business school knowing that I wanted to start my own business while I was still a student. There are numerous resources available to students, especially at Rady. Working full time on my business while juggling a full course load has been tricky at times, but it's been a great opportunity to immediately apply the concepts I'm learning in the classroom. My professors Amy Nguyen-Chyung, Eric Floyd, Rick Townsend, Vish Krishnan and Michael Berthelot also serve as mentors and help me dig into the specifics like business plan creation, financial modeling, new venture finance, and designing a board of directors. Creating a company where I'm excited to get up every morning and go to work keeps me motivated.
Q. What are your plans for future growth for Algeon?
A. Algeon Materials is transitioning into the next phase of research and development. We're working on securing our first pilot customer. They are excited to be growing quickly and adding more members to the team. Algeon Materials regularly communicates with supporters via LinkedIn and our newsletter list.
Q.What's your wildest hope for success with Algeon Materials?
A. My wildest hope is for Algeon Materials to become a good place to work, to provide a product that is valuable, and to make the world a better place. I think good employers attract and retain good employees. We spend so much of our time at work and with our coworkers. I want the time that we spend away from our families and friends to be meaningful and enjoyable. It's important that we create a product that is valuable for our customers because that is what will keep us in business. And, finally, I want Algeon Materials to make the world a better place. Our mission is to fight climate change and reduce plastic pollution. These are big problems that will take many solutions to help solve. We are excited to be part of the solution.
Q. What are the most important problems and promising opportunities you see for others who want to get involved in blue technology and ocean-related business?
A. We are not short on problems that need solutions. Climate change and reducing carbon are major ones that can be addressed with all types of blue tech solutions. What's exciting is that there are many ways to tackle these issues. Naturally, I'm fond of any solution that involves kelp.
Stay in the Know
Keep up with all the latest from UC San Diego. Subscribe to the newsletter today.